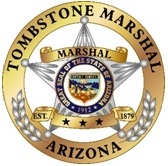 Welcome to the Tombstone Marshal's Department
The Tombstone Marshal's Department is proud of its heritage in the west and strives for professionalism and excellence in service. Our goal in the Marshal's Department is to provide excellent service to our citizens through proactive patrols and enforcement as well as establishing good public relations through community involvement. Tourism is the mainstay for Tombstone and we are privileged to meet and provide service to a wide variety of travelers throughout the country and around the world.
One of the priorities of the Marshal's Department is continued training. The Deputies are constantly receiving training in updated case law, changes to the Arizona Revised Statutes and firearms proficiency. Although our department is small, we provide 24 hour coverage to our community and offer additional services such as house checks and business patrols on a regular basis.
The Marshal's Department is devoted to public safety within our community and we encourage our citizens to contact us in cases of emergency, urgency or just plain curiosity.
~~Follow us on Facebook ~~
https://www.facebook.com/Tombstone-Marshals-Office-128767120474147/
ALSO>>>
In response to several queries concerning the recent 'gas leak' and evacuation process, I have contacted the Cochise County Emergency Services and enrolled in their emergency notification program.
The program will allow us to make emergency notifications to each of our residents in the case of an emergency, which will alleviate the need to go door to door or scare the bejesus out of you with our PA Systems.
I am attaching a link below which will explain more of the program and allow you to sign up for notifications, via email, cell phone or both. I am hoping the next time we have a serious situation, we can get the word out a bit faster and keep everyone calm.
Please click on the link below to start your notification process.
Thanks
http://public.alertsense.com/signup/?regionid=1341
Marshal
Tombstone Marshal's Department
BOB RANDALL
315 E. Fremont Street
PO Box 339
Tombstone, AZ 85638
Phone: (520) 457-2244
Email Rrandall@Cochise.az.gov
For those of you wishing to add an authentic Tombstone Marshal's Department shoulder patch to your collection, this is your chance.
We also have Hat pins designed from our badge as well as Challenge Coins.
The chart to the left shows examples of our items that are being sold and we have added a Pay Pal account for your convenience.